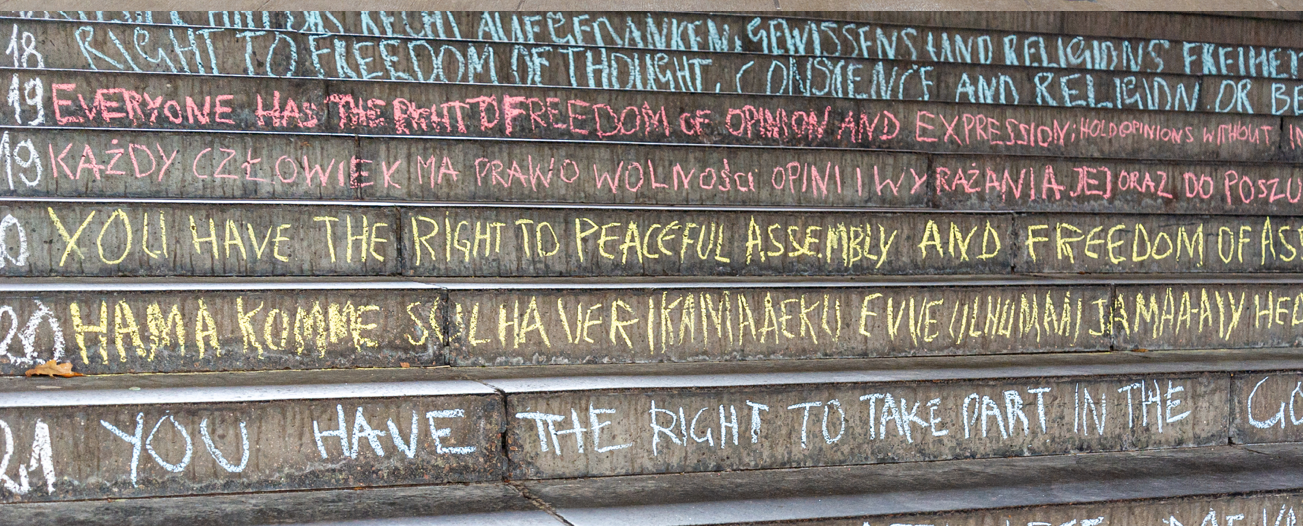 This course seeks to provide students with an in-depth understanding of the relevance and role of human rights to a number of contemporary issues. Topics are examined, such as exploring the meaning of rights for those most vulnerable and marginalised in society: women's rights, minority rights, socio-economic rights & poverty, the rights of persons with disabilities and indigenous peoples' rights.
To build and consolidate knowledge and skills gained in HU100 and HU200.

To examine the relevance and role of human rights to a number of contemporary issues.

To examine selected substantive human rights in national, regional and global contexts.

To introduce students to comparative human rights analysis.
At the end of this module, students will demonstrate the ability to critically analyse select contemporary human rights issues from a range of different perspectives.
Students will evaluate key normative concepts and ideas, such as equality, human dignity and non-discrimination, and comprehend both the historical bases and the philosophical arguments underpinning the modern rights infrastructure.
Students will understand the various human rights frameworks (international, regional, domestic) and recognise how these interact with regards to specific human rights issues and cases.
Students, working both independently and collaboratively, will be able to synthesise and present human rights arguments in a coherent manner, communicating through their written outputs, in-class contributions, and oral presentations.
See attached syllabus from this year as an example. The syllabus may vary from year to year, but this will be announced to students in advance of their enrolment onto the module
Learning and Teaching Methods
Including number and format of contact hours, e.g. lectures, seminars, classes, practicals
Specify where students can find this information
20 weeks of combined lectures and seminars in 2h teaching blocks.
This will be stated on the module directory.
One 3,000-word essay in the spring term worth 35% of overall mark.

Two short 1,500-word reports in the autumn term, worth 17.5% each (combined 35%).

A group presentation on a human rights topic to be delivered in the summer term. The teaching team will evaluate the group presentations, and there will be an associated individualised component – a 1,000 word reflective statement regarding the epistemological journey and the process of doing a group project. 20% of the overall mark will be awarded for the group presentation and 10% for the reflective statement.
This module will be assessed by three different kinds of coursework:
a 3,000-word essay on a topic covered in the Autumn Term;
two 1,500-word reports, one each on the two topics covered in the Spring Term; and
a group presentation and 1,000-word reflective statement on a human rights topic (covered in either term or researched independently). Groups generally will consist of four students – the final presentation will be 25 minutes long, giving individual students 5 minutes each for their respective contribution, and 5 minutes at the end for questions and answers, comments and reflections from the assessment panel. The presentation and the statement are due in Summer Term.
Description of unit of assessment

(for exams, specify when the exam will be)